Akshaya Tritiya 2023
Akshaya Tritiya is celebrated every year on the third day of lunar month of Sukla Paksha of Vaishaka month
Akshaya Tritiya is Celebrated when the sun and moon is exalted to it's maximum which means it gives the highest power and maximum impact.
Significance of Akshaya Tritiya 2023
Gains all the powers Whatever you do on Akshaya Tritiya will multiply several times and hence auspicious things such as chanting mantras, doing pooja, performing rituals are done, so that it's impact is multiplied
Empowering the MahaVishnu and MahaLakshmi to get the energy of of our wishes to be fulfilled
Gets the blessings of the prosperity and health to drive away all the miseries, bestows success in all aspect.
To Know more about Akshaya Tritiya, Read Our Blog
4.6

(744)
Pooja :
₹350
₹450
save ₹100
Abishekam :
₹450
₹570
save ₹120
Poorna Pooja :
₹600
₹740
save ₹140
2 vadhiyar homam :
₹6,000
₹8,000
save ₹2,000
4 vadhiyar homam :
₹10000
₹12000
save ₹2,000
All rituals done withing 20 to 30 mins of booking.
All our rituals are cheap and below market price.
Book a free demo pooja as trial.
You can watch all the pooja live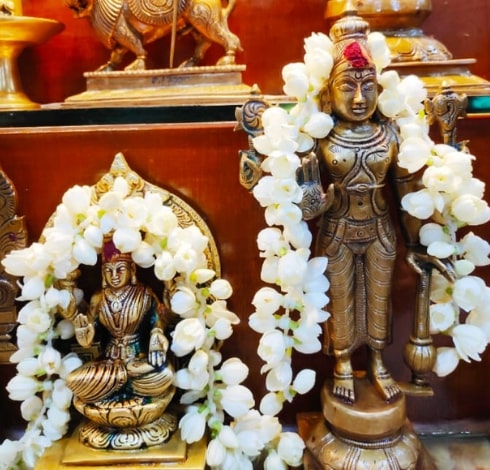 Frequently Asked Questions
You can easily book Pooja with us. payment can be done in multiple ways like google play, phonephe, paytm, bank transfer, UPI's, razorpay and payumoney. After paying us Whatsapp Number : +91 89256 62492 send us the screenshot in the whatsapp number.
Step 1 : Choose your Desired pooja or homam and click the Razorpay Link and Pay us with your preferred method of payment options.
Step 2 : After Paying us, send us the Payment Screenshot in our WhatsApp and send Pooja details for whom the Pooja should be done
Step 3 : Your pooja done within 20 mins of Payment, We send your pooja video footage in your whatsapp.
Step 4 : Our team will assign a vadhiyar and he will call you through whatsapp, google meet, zoom and whatever medium you prefer.
You can reach us very easily. We are there to guide you, clear all your doubts and help you in payment. Our team takes almost care and effort to answer the clients Call at the earliest
Clients

Testimonials

Kind words from our Swaami narayanan Clients.
My astrologer told that sun position in my horoscope is not good, I did ratha saptami Surya Puja in Swami Narayana temple and add a great satisfaction as he adviced me to worship Sun God.

Arun -
New Delhi
Indeed I tank Swami Narayana temple for doing Surya Puja for me and my family the way priest do the Puja is very much satisfactory.

Charanya -
US
i wanted to do shani pooja. i was googling for it i came across swaami narayanan temple. i was astonished by the way they did the pooja. also the fastness with which they organised the pooja.

Gokul -
Chennai
I have ordered pooja many times with their people and I come to believe they are like the ola of Pooja and Swiggy of homam

Monisha -
Washington
Pretty decent pooja, they keep up their word and they do the Puja at the best level of my satisfaction Hats off keep the good work.

Keerthana -
Trichy
Akshaya Tritiya Benefits :
Immense Blessing of MahaVishnu & MahaLakshmi
Make the next 6 months favourable to you and achieve everything.
Power of Attraction
Get recognised easily everywhere and become more powerful.
abundance and prosperity
Your manifestation energy will increase
Your energy level will increase.
Clear your sins
Clear your sins with the power and grace of god with bright radiance of sun and moon
Remove your misfortune
You will be filled with peace and radiant energy
Akshaya Tritiya
Have any thought? Look here.
Call now
It is an important festival where Sun and Moon are exaltedMahalakshmi and Mahavishnu are worshipped prosperity, good health and wealth for the throughout year and performing pooja and homam and it's impact is multiplied.
Akshaya Tritiya is celebrated in order to get the blessings of the God to have growth in everyone's life
Get the immense blessings of Mahalakshmi and mahavishnu, power of attraction will become multi fold, manifestation energy will increase, energy level will increase, be filled with peace and radiant energy
Akshaya Tritiya commences every year in Sukla Paksha Trithiyai of Vaishaka month and this 2023 year it is on 22nd April 2023
anything that commences on this day will always emerge victorious. This day is thus symbolic of good luck, success and fortune gains.
Why should you choose Swami narayanan temple? with E-service
Our prices are lower than the Market always.
You can book and get your Homam done in 2 hours
You can watch all your Rituals Live.
We chant your name in every ahurtie in the homam
We chant 108 ashtothra for all the gods, which is not done anywhere.
We only do individual Pooja and no group poojas are done.
All the rituals will be done at your convenience.