Parayanam
What is Parayanam ?
Parayanam is the mantra chanting done by the eleven vedic preists. The abhisekam of the devatas is done along with the chanting. Different liquids or dravya are used in the abhisekam while the chanting goes on.
Types of Parayanam
Rudra chamakam prayanam
Sri suktha japam
Mahamirutunjaya japam
Bhagya suktha prayanam
Purusha suktha prayanam
Pancha suktha prayanam
Ayush suktha prayanam
Vishnu Sahasranama Parayanam
For More information click here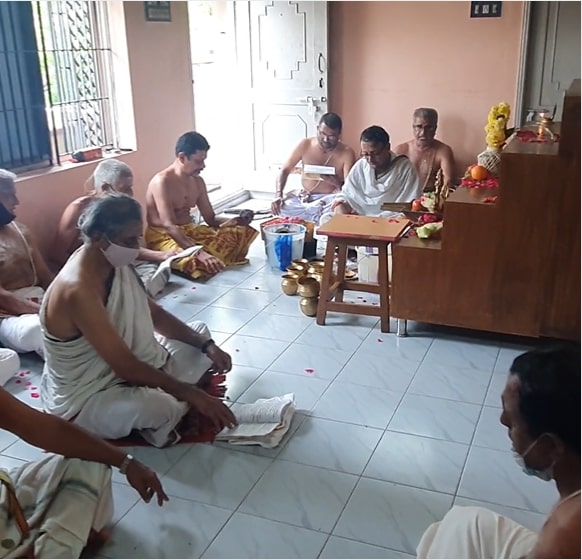 Frequently Asked Questions
Step 1 : Choose your Desired online pooja or online homam and click the Razorpay Link and Pay us with your preferred method of payment options.
Step 2 : After Paying us, send us the Payment Screenshot in our WhatsApp and send Online Pooja details for whom the Online Pooja should be done
Step 3 : Your online pooja done within 20 mins of Payment, We send your online pooja video footage in your whatsapp.
Step 4 : Our team will assign a vadhiyar and he will call you through whatsapp, google meet, zoom and whatever medium you prefer.
You can reach us very easily. We are there to guide you, clear all your doubts and help you in payment. Our team takes almost care and effort to answer the clients Call at the earliest
Clients

Testimonials

Kind words from our Swaami narayanan Clients.
Swami narayana temple organised parayana session which created the positive vibes and energising atmosphere.

Rakesh vaswani -
UK
Parayanam is a unique initiative by Swami Narayana temple which i like to share with others to get the blessings.

Sasi kumar -
Kerala
In my childhood days, there used to be parayanam conducted during november or karthika month at my home. When I browsed Swami Narayana temple, the word parayana reminded me of the olden days and when I asked them to perform, there was full bliss and when all the priests finally blessed me, it made a remarkable moment. Thank you so much team.

Shanthi -
Chennai
I am very happy with your service. I am planning to continue my parayana regularly with swami Narayana temple.

Porkodi -
kanchipuram
This is a very good and reliable place for performing punyavachanam

Ragavendran -
Trichy
Good health / Clear your health issues.
To Increase Ayush or longevity.
To recover from the health issues.
Bhagya Suktha Prayanam- To increase the positivity in the house.
SriSuktham Prayanam- To increase the financial abundance
Medha Suktha- For concentration in studying.
Why should you choose Swami narayanan temple? with E-service
Our prices are lower than the Market always.
You can book and get your Homam done in 2 hours
You can watch all your Rituals Live.
We chant your name in every ahurtie in the homam
We chant 108 ashtothra for all the gods, which is not done anywhere.
We only do individual Pooja and no group poojas are done.
All the rituals will be done at your convenience.