Celebrate Guru poornima
Guru Purnima (Poornima) is a tradition dedicated to all the spiritual and academic Gurus, who are evolved or enlightened humans, ready to share their wisdom, based on Karma Yoga
It is celebrated as a festival in India, Nepal and Bhutan by Hindus, Jains and Buddhists.
Significance of guru poornima
This festival is traditionally observed to honour one's chosenspiritual teachers or leaders.
It is observed on the Full Moon day (Poornima) in the Hindu month of Ashadha (June–July) as it is known in the Hindu Calendar.
4.6

(744)
Pooja :
₹350
₹450
save ₹100
Abishekam :
₹450
₹570
save ₹120
Poorna Pooja :
₹600
₹740
save ₹140
2 vadhiyar homam :
₹6,600
₹8,000
save ₹2,000
4 vadhiyar homam :
₹10,000
₹12,000
save ₹2,000
All rituals done withing 20 to 30 mins of booking.
All our rituals are cheap and below market price.
Book a free demo pooja as trial.
You can watch all the pooja live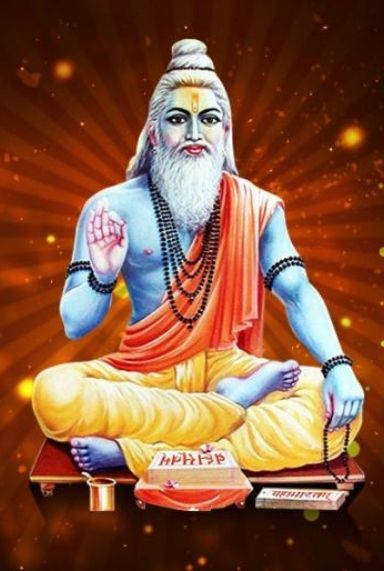 Frequently Asked Questions
You can easily book Pooja with us. payment can be done in multiple ways like google play, phonephe, paytm, bank transfer, UPI's, razorpay and payumoney. After paying us Whatsapp Number : +91 89256 62492 send us the screenshot in the whatsapp number.
Step 1 : Choose your Desired pooja or homam and click the Razorpay Link and Pay us with your preferred method of payment options.
Step 2 : After Paying us, send us the Payment Screenshot in our WhatsApp and send Pooja details for whom the Pooja should be done
Step 3 : Your pooja done within 20 mins of Payment, We send your pooja video footage in your whatsapp.
Step 4 : Our team will assign a vadhiyar and he will call you through whatsapp, google meet, zoom and whatever medium you prefer.
You can reach us very easily. We are there to guide you, clear all your doubts and help you in payment. Our team takes almost care and effort to answer the clients Call at the earliest
Clients

Testimonials

Kind words from our Swaami narayanan Clients.
My astrologer told that sun position in my horoscope is not good, I did guru poornima Puja in Swami Narayana temple and add a great satisfaction as he adviced me to worship gayathri.

Arun -
New Delhi
Indeed I tank Swami Narayana temple for doing Surya Puja for me and my family the way priest do the Puja is very much satisfactory.

Charanya -
US
i wanted to do guru poornima pooja. i was googling for it i came across swaami narayanan temple. i was astonished by the way they did the pooja. also the fastness with which they organised the pooja.

Gokul -
Chennai
I have ordered pooja many times with their people and I come to believe they are like the ola of Pooja and Swiggy of homam

Monisha -
Washington
Pretty decent pooja, they keep up their word and they do the Puja at the best level of my satisfaction Hats off keep the good work.

Keerthana -
Trichy
To attract power
It will give you a stronger body and mind | Experience guru poornima online here
To increase the self confidence
Is a perfect tool to increase the level of confidence and self-esteem in learners.
Fulfil your wishes
Make your wish for your loved ones a reality with guru poornima pooja.
Increase in the Ability to take big things in life
Helps one to make the most out of life by increasing hope and self confidence..
To defeat extraordinaire enemy
By celebrating Vaikasi visakam pooja, devotees can begin their day feeling refreshed and calm, and inspired by the deity
Remove your misfortune
Clear all your misfortune and grab all the power and attract the top authority in your office.
Guru poornima pooja
Have any thought? Look here.
Call now
Traditionally the festival is celebrated by Buddhists in honor of the Buddha who gave his first sermon on this day at Sarnath, Uttar Pradesh, India. In the yogic tradition, the day is celebrated as the occasion when Shiva became the first Guru, as he began the transmission of Yoga to the Saptarishis.
Guru Purnima is celebrated by Buddhists, Hindus and Jains every year on the full moon day of the Shakha Samavat in the Hindu calendar. This festival commemorates the goodness of spiritual gurus and teachers as thousands of devotees worship and thank their gurus for enlightenment.
This festival has been celebrated as a tradition for a long time. According to Vedic astrology, this year's Guru Purnima is very auspicious and special. This year, devotees who will perform puja are likely to get success very soon. Banyan tree is also worshiped on Guru Purnima.
Guru Purnima is usually celebrated by worshipping and expressing gratitude to the Gods who are like our Gurus. In monasteries and ashrams, disciples offer prayers in the honour of their teachers.
Celebrations by Hindus and Buddhists to thank their teachers
Guru Purnima is an auspicious festival for Buddhists, as it is popularly believed that Lord Buddha gave his first sermon on this auspicious day. That is why, the day is also known as Buddha Purnima. No matter what religion you follow, what culture you have been born and brought up in, Buddha's teachings are universal.
Devotees who strictly observe the Purnima Vrat usually fast by not eating or drinking anything. Partial fasting can also be observed by eating one meal devoid of salt and pulses. After the moon is sighted, devotees perform Puja to their favorite God and break the fast after consuming Prasads.
Guru Purnima traces its roots back to the Vedic era. The word itself has its roots in Sanskrit language, were 'gu' means darkness and 'ru' is the removal of darkness. The festival is celebrated by the Hindus, Jains and Buddhists, who respect and honor their gurus and express their gratitude.
Why should you choose Swami narayanan temple? with E-service
Our prices are lower than the Market always.
You can book and get your Homam done in 2 hours
You can watch all your Rituals Live.
We chant your name in every ahurtie in the homam
We chant 108 ashtothra for all the gods, which is not done anywhere.
We only do individual Pooja and no group poojas are done.
All the rituals will be done at your convenience.