Shrardham
Under the effect of the Shradh rites, the pitars who have attained the Pitrulok (Region of the pitars), move on to higher regions. They are able to regain their lost wealth and success so that their journey into the next life may be fruitful.Bodies of ancestors who have not gained momentum, meaning, those who instead of moving on to the superior regions remain entrapped in the inferior region due to unfulfilled desires, are satisfied with offerings made during Shradh rites, which provides momentum for their onward journey.
4.2

(564)
Shrardham :
₹9000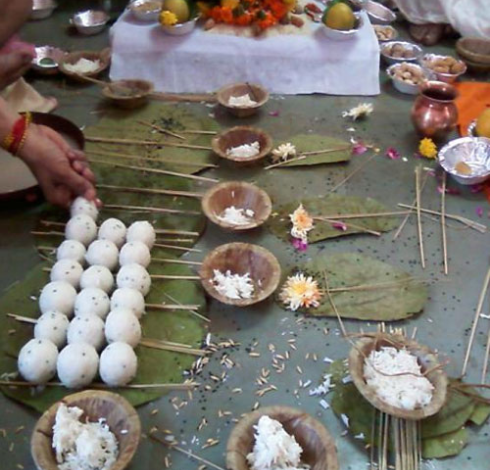 Frequently Asked Questions
You can easily book Pooja with us. payment can be done in multiple ways like google play, phonephe, paytm, bank transfer, UPI's, razorpay and payumoney. After paying us Whatsapp Number : +91 89256 62492 send us the screenshot in the whatsapp number.
Step 1 : Choose your Desired pooja or homam and click the Razorpay Link and Pay us with your preferred method of payment options.
Step 2 : After Paying us, send us the Payment Screenshot in our WhatsApp and send Pooja details for whom the Pooja should be done
Step 3 : Your pooja done within 20 mins of Payment, We send your pooja video footage in your whatsapp.
Step 4 : Our team will assign a vadhiyar and he will call you through whatsapp, google meet, zoom and whatever medium you prefer.
You can reach us very easily. We are there to guide you, clear all your doubts and help you in payment. Our team takes almost care and effort to answer the clients Call at the earliest
Clients

Testimonials

Kind words from our Swaami narayanan Clients.
I am extremely thankful to portal and the priests. I had been suffering from ancestral problems since birth.For some reason my great grandfather was not getting proper salvation and this was affecting me in all walks of life. After performing the thila homam, I feel a sense of peace and calmness.

Sindhu -
Chennai
It was a wonderful experience for me to watch the Thila homam. The entire procedure was explained very nicely and slowly so that people who had never seen homam can understand it easily. Overall, I am very happy.

Charanya -
US
I was having a lot of trouble with my father in law and had not been able to sleep properly for months. I searched online for a solution and found that aadhesh could help me. I decided to go ahead with the ritual and it was amazing! My father in law appeared in my dream and said he was happy with me. Aadhesh performed the rituals perfectly, I really am grateful.

Gokul -
Chennai
What happens in shraddam ?
ancestors
The Pitras (ancestors) suffer from hunger, thirst, heat, cold, fatigue and also pain as punishment according to their earlier karmic activities. In search of relief from those pain, the ancestors are attracted to their descendants who are karmic debtors to them.
peace by getting the pinda
It is a duty of every true son or daughter that they should perform Shraddha on the occasion of death anniversary of their father, mother or any other near and dear one. The meaning of this ceremony is that the soul of the ancestor gets some peace by getting the pinda (rice ball) and water mixed with areca nut from his/her sons or daughters.
A debt is a debt.
A debt is a debt. And it must be repaid. The quote 'A debt unpaid is a debt never ending' is true even for the most ancient of debts that owed to one's own ancestors. It is time for you, the karmic debtor of your forefathers, to serve them up some justice by honoring their lifetime of service on this planet with a gift fit for kings: pinda and water.
Shrardham
Have any thought? Look here.
Call now
The rites are performed between the 11th and 31st day after death, depending on caste traditions, and at regular intervals thereafter. The first annual death anniversary is observed by a shraddha ceremony that enables the deceased (preta) to be admitted into the assembly of forefathers (pitri).
Shradh, called Pitru Paksha, is a 16-day period in September when Hindus remember their ancestors by offering prayers and food. It is believed that certain rituals performed during shradh appease the souls of the ancestors and bring happiness and prosperity at home.
It is customary for guests and family member to wear white, and no head covering is required for either sex. Women should dress conservatively, covering arms and knees. Open-toe shoes are acceptable, as is jewelry… but keep a light touch with the jewelry, nothing flashy.
Shradhdha rituals are performed to pacify soul of our ancestors. This is considered one of the most important Hindu rituals and performed every year in the Hindu Calendar month of Ashwin. The shraddha ritual must be performed on the exact same tithi (date as per Hindu calendar) as of the death of our ancestor.
KamyaShradh - This Shradh can be done to fulfil special wishes. KaamyaShradha is done, during Rohini or KrittikaNakshatra. VriddhiShradh - This Shradh is done on special occasions like marriage or on the birth of boy VriddhiShradh is performed to get the blessings of the ancestors.
The person performing the Shradh must maintain celibacy. Consumption of non-vegetarian food is strictly prohibited. Ingredients such as onions, garlic, chana, jeera, black salt, black mustard, cucumbers, brinjals and lentils like masoor dal, black urad dal must not be consumed at all during the 16 days.
Conceptually, it is a way for people to express heartfelt gratitude and thanks towards their parents and ancestors, for having helped them to be what they are and praying for their peace. It also can be thought of as a "day of remembrance".
Why should you choose Swami narayanan temple? with E-service
Our prices are lower than the Market always.
You can book and get your Homam done in 2 hours
You can watch all your Rituals Live.
We chant your name in every ahurtie in the homam
We chant 108 ashtothra for all the gods, which is not done anywhere.
We only do individual Pooja and no group poojas are done.
All the rituals will be done at your convenience.