Grahana dosha vimochana pooja
Solar Eclipse is a very rare phenomenon in Hindu religion.
When one comes across a person with such birth chart he or she will suffer in life as per Vedic Astrology. To make a long story short the entire reason for this phenomenon is because of the Chandra grahanam (moon eclipse) and Surya grahanam (sun eclipse). There are many types of Grahanams like Chandra grahanam, Grahanam pooja etc. It is the most important event in Vedic astrology and you must know how it impacts your life and how to overcome its ill effects.
This can be specifically done for those in the star of Ashwini,Bharani,krithigai,chithirai,hastami,swathi.
pooja timing : 20 minutes
Homam timing : 3 hours
4.6

(584)
Grahana pooja :
₹600
₹750
save ₹150
Grahana Poorna Pooja :
₹1500
₹1800
save ₹300
2 vadhiyar homam :
₹6,000
₹8,000
save ₹2,000
4 vadhiyar homam :
₹10,000
₹12,000
save ₹2,000
All rituals done withing 20 to 30 mins of booking.
All our rituals are cheap and below market price.
You can watch all the pooja live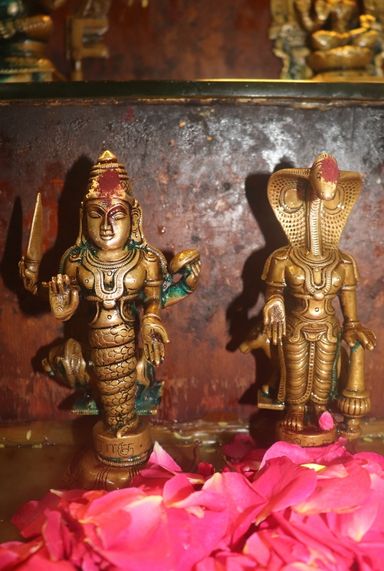 Frequently Asked Questions
You can easily book Pooja with us. payment can be done in multiple ways like google play, phonephe, paytm, bank transfer, UPI's, razorpay and payumoney. After paying us Whatsapp Number : +91 89256 62492 send us the screenshot in the whatsapp number.
Step 1 : Choose your Desired pooja or homam and click the Razorpay Link and Pay us with your preferred method of payment options.
Step 2 : After Paying us, send us the Payment Screenshot in our WhatsApp and send Pooja details for whom the Pooja should be done
Step 3 : Your pooja done within 20 mins of Payment, We send your pooja video footage in your whatsapp.
Step 4 : Our team will assign a vadhiyar and he will call you through whatsapp, google meet, zoom and whatever medium you prefer.
You can reach us very easily. We are there to guide you, clear all your doubts and help you in payment. Our team takes almost care and effort to answer the clients Call at the earliest
Clients

Testimonials

Kind words from our Swaami narayanan Clients.
Thank you Swaami Narayanan temple for the Navarathri pooja which was done exclusively for me. Much appreciated is your individual pooja for each person is logical and also very much satisfied

Varun -
Karnataka
I did my Navarathri homam in Swaami Narayanan temple for 3 days and worship to Goddess gave me peace of mind. The mantras chanted by priest were excellent.

Gaja Lakshmi -
US
Did Navarathri Saraswathi puja for my son Rishi for excelling in studies and hope to get good result. Happy to perform in your temple as could watch it live and liked the procedure

Rakesh -
Chennai
Performed Kumari Pada Puja organised by Swaami Narayanan Temple. They organised well with 9 kumari and did a chakra chanting which was great and invoked Goddess. Got blessings and self satisfied

Sandeep kumar -
Las vegas
Performing Ashtalakshmi Homam in your temple gives me a positive energy where you take sankalpa on basis of my problem and when homa is done, I strongly get a belief of business development and growth in the market which is instable afer corona.

Preethi -
Kovai
Surya Grahana pooja Benefits :
eliminate stress, obstacles and misfortunes.
Performing Surya Grahan Dosh Nivaran Puja helps to eliminate stress, obstacles and misfortunes.
relieved and good.
Health problems of native and others in family are relieved and good health is restored.
positivity, success and happiness.
Surya Grahan Dosh Nivaran puja blesses with regaining power,Attracts positivity, success and happiness
Strengthen concentration.
Performing the Surya Grahan Dosh Nivaran puja removes the darkness in life caused by the Surya Grahan Dosh to bring back the Light of Surya/Sun.
Grant intelligence.
It helps to gain confidence, Helps to maintain mental balance.
Excel in enhance creativity remove ignorance.
Helps to get rid from misfortune and offer good fortune.Helps in achieving fame and name, Destroys negative energies.
Surya grahanam
Have any thought? Look here.
Call now
Performing this puja can help in reducing the malefic effects in Horoscope because of Solar Eclipse. This paves path for important tasks in life. Also native is freed from any physical and mental tensions with the effect of the worship ceremony.
Surya Grahan Dosha occurs when one of the planets, Rahu or Ketu, aligns with the Sun in the 12th house of a person's horoscope (solar eclipse defect). Surya Grahan Dosha is also known as Rahu-Ketu Dosha when one of the planets Rahu-Ketu is positioned in the Sun's house.
According to ancient beliefs, cooking as well as eating food during the grahan should be avoided. This is because of the sun's rays that fall on the earth and change the environment. One should not look at the grahan with naked eyes or step out to see the eclipse.
It is decided upon seeing the event time and date.
And always remember that effects of grahan yoga are not permanent. Once the bad effects run out your life can come back on track via will-power and hard work.
When an individual is born during a Solar or Lunar eclipse, it is said that the person has Grahan dosh. The formation of this dosh is due to the presence of the shadow planets,Rahu and Ketu. In this dosh, Rahu and Ketu are in close conjunction of the Sun or Moon.
According to its definition prevalent in Vedic astrology, if Sun or Moon is placed with Rahu or Ketu in a horoscope, Grahan Yoga is formed in the horoscope. Through Grahan Yoga, Rahu and Ketu may cause damage to the general as well as specific significances of Sun and Moon in a horoscope.
Grahan Dosh is a situation when Sun or Moon comes in the same house with Rahu or Ketu in your birth chart, or at the lagna period. Rahu or Ketu are always moving in the opposite direction. Their attributes are also opposite to each other.
Why should you choose Swami narayanan temple? with E-service
Our prices are lower than the Market always.
You can book and get your Homam done in 2 hours
You can watch all your Rituals Live.
We chant your name in every ahurtie in the homam
We chant 108 ashtothra for all the gods, which is not done anywhere.
We only do individual Pooja and no group poojas are done.
All the rituals will be done at your convenience.