Tarpanam
One important ritual of Hinduism is tarpana. Tarpana means "satisfying" or "satiating". One acknowledges the debt one has to devas (gods), rishis (sages) and pitris (ancestral manes) and tries to satisfy them using this ritual. Just as gods are invoked in fire in a homa, pitris are invoked in water in this ritual, then held in the palm and released in a specific way conducive to freeing them of some conditioning.
Tarpana can be performed on any day. Actually, if one has time and energy, it can be performed everyday. In fact, it was part of daily rituals of Hindus not long back!
Tarapanam online
4.9

(2944)
Tarapanam : ₹250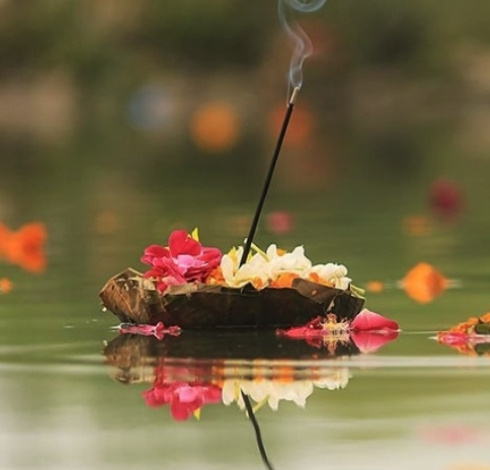 Frequently Asked Questions
You can easily book Pooja with us. payment can be done in multiple ways like google play, phonephe, paytm, bank transfer, UPI's, razorpay and payumoney. After paying us Whatsapp Number : +91 89256 62492 send us the screenshot in the whatsapp number.
Step 1 : Choose your Desired pooja or homam and click the Razorpay Link and Pay us with your preferred method of payment options.
Step 2 : After Paying us, send us the Payment Screenshot in our WhatsApp and send Pooja details for whom the Pooja should be done
Step 3 : Your pooja done within 20 mins of Payment, We send your pooja video footage in your whatsapp.
Step 4 : Our team will assign a vadhiyar and he will call you through whatsapp, google meet, zoom and whatever medium you prefer.
You can reach us very easily. We are there to guide you, clear all your doubts and help you in payment. Our team takes almost care and effort to answer the clients Call at the earliest
Clients

Testimonials

Kind words from our Swaami narayanan Clients.
Respected Sir, We wish to thank you for your complete support and guidance in doing this Mahalayam tarpanam.... The sessions are on time, we get perfect previous day reminder. And the guidance during the ritual is very blessed. We thank you on behalf of our entire family for helping us fulfill these pitru rituals with devotion. 🙏🙏🙏

Mr.Sudhakar
Hello Today Morning Mr. Srinivasan performed the Malaya Paksham using whatsapp video call. He co-ordinated the procedure very slowly and explained some of the main features of the generations of our parents lineage. Going forward probably I may use his services for doing any other pooja or religious functions. Overall I am satisfied with the way it is coordinated and organized. Thanks.

U.S. client
Pooja was perfectly very good out of 10 I will prefer 10. Thank you for your belesing.

Prasanth vaidya
Relieve your ancestors
Help your anscestors from getting tormented in the naraka from their sins.
Offering Food and Water
Doing Tarpanam for our ancestors will give them the energy of the food to move towards moksha.
Send them to Light
Doing Tarpanam will help them to reach the moksha and will help to relieve them from their sins.
Tarpanam
Have any thought? Look here.
Call now
Tarpanam is a ritual of offering water mixed with gingelly to the manes (dead ancestors). It is believed that when someone dies, they bear three debts with them – Deva Rina (debt towards God), Acharya Rina (debt towards Guru) and Pitru Rina (debt towards ancestors). Those who do not perform these rituals regularly will suffer from various physical and mental health problems as well as family related problems. The negative effects of not performing this ritual will reflect on you and your family members too. This is because our ancestors have a claim on us as they gave us birth and brought us up.
We offer Tarpanam to 12 of our recently departed ancestors. These may be your parents, grandparents and so on. People in your parental lines are the only ones who are included in this Tarpanam . So, uncles, aunts or cousins are excluded from Pitru Tarpanam worship. If the girls are married, their husband can do the ritual even if his father is alive. The daughters whether married or not can perform.
Tarpan is the ritual offering that is made to the departed souls on new moon days. In this ritual, boiled rice, sesame seeds and water are offered to the spirits. The biggest significance of tarpan is that it is believed to bring peace and happiness in your life.
Yes, we can do the 'Tarpanam' at home. The priests have advised that the 'BaliTarpanam' be done at home and not outside. The essence of this ritual is to remember our ancestors and make them happy by offering water and sesame seeds to them. It also helps you relieve yourself of the pain due to their death.
Generally, the ritual is performed by the eldest or the youngest son. But in their absence, other household members are allowed to perform Tarpan to their ancestors. This can be a great way for you to show your family how much you care about them and those who have passed on.
As per the holy texts, women are not supposed to perform Pitru Karyams, but with the changing pace of customs and their interpretations, everything is acceptable today and it is in the view of the person who does this.
Tarpanam is a very important holy day for the Hindus. On that day, we have to pay homage to our ancestors who have left this world and attained salvation in their heaven. Tarpanam is an integral part of Hinduism and most of the people practice it these days because they believe in its significance.
Tarpanam is a ritual performed by family members to propitiate the dead ancestors. It is believed that if Tarpanam is not performed then the Pithru devas will curse us so that we may not have male descendants to offer Tarpanam to us.
Offering a tarpan with black seeds is like offering water and milk, which should be performed by facing East. The water is used to wash the feet of ancestors' soul along with the chanting of mantras. Then, after the tarpan is completed, one should offer food to those who have come for the ceremony.
The rites of tarpan burial and pind daan should be done on the tithi in which the person died. The exact date of death is generally known by the family members and hence pind daan is possible but only if it is done on the Amavasya of Shraddha Paksha . If however, one does not know about this then tarpan can be done with an offering of clothes to Brahmins on any day on which it gets dark after sunrise.
Why should you choose Swami narayanan temple? with E-service
Our prices are lower than the Market always.
You can book and get your Homam done in 2 hours
You can watch all your Rituals Live.
We chant your name in every ahurtie in the homam
We chant 108 ashtothra for all the gods, which is not done anywhere.
We only do individual Pooja and no group poojas are done.
All the rituals will be done at your convenience.