Chandra Grahana Doshan Nirvathi Pooja
Chandra Grahana is on 8th November of 2022 and the Timing for Grahana starts from 4.30 PM - 6.20 PM. (This is for All over India).

It is the most important event in Vedic astrology because it gives the position of other planets. When the moon becomes dark, planets get more power.

We must do Grahana Dosha nivarthi pooja and homam then we reduce our afflictions. We are helping you with services online. We Swami Narayanan Temple, are available at any time to fulfill your ritual needs.

Click here to learn more about grahana dosha



Most affected Nakshatras : Ashwin,Bharani,Kirtikka,Chitrai,Swathi,Vishakam.

pooja timing : 20 minutes

Homam timing : 3 hours

4.6 (584)


Grahana pooja : ₹600 ₹750 save ₹150
Grahana Poorna Pooja : ₹1500 ₹1800 save ₹300
2 vadhiyar homam : ₹6,000 ₹8,000 save ₹2,000
4 vadhiyar homam : ₹10,000 ₹12,000 save ₹2,000
All rituals done withing 20 to 30 mins of booking.
All our rituals are cheap and below market price.
You can watch all the pooja live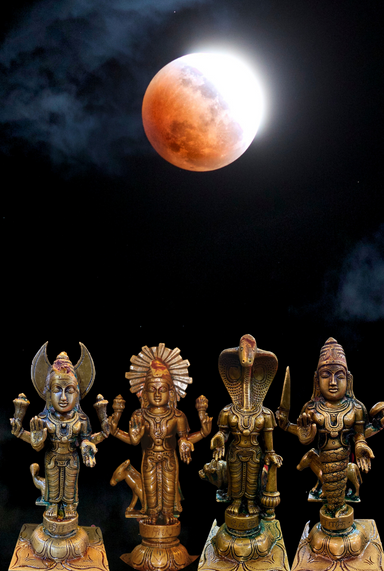 Frequently Asked Questions
You can easily book Pooja with us. payment can be done in multiple ways like google play, phonephe, paytm, bank transfer, UPI's, razorpay and payumoney. After paying us Whatsapp Number : +91 89256 62492 send us the screenshot in the whatsapp number.
Step 1 : Choose your Desired pooja or homam and click the Razorpay Link and Pay us with your preferred method of payment options.
Step 2 : After Paying us, send us the Payment Screenshot in our WhatsApp and send Pooja details for whom the Pooja should be done
Step 3 : Your pooja done within 20 mins of Payment, We send your pooja video footage in your whatsapp.
Step 4 : Our team will assign a vadhiyar and he will call you through whatsapp, google meet, zoom and whatever medium you prefer.
You can reach us very easily. We are there to guide you, clear all your doubts and help you in payment. Our team takes almost care and effort to answer the clients Call at the earliest
Clients

Testimonials

Kind words from our Swaami narayanan Clients.
Thank you Swaami Narayanan temple for the Navarathri pooja which was done exclusively for me. Much appreciated is your individual pooja for each person is logical and also very much satisfied

Varun -
Karnataka
I did my Navarathri homam in Swaami Narayanan temple for 3 days and worship to Goddess gave me peace of mind. The mantras chanted by priest were excellent.

Gaja Lakshmi -
US
Did Navarathri Saraswathi puja for my son Rishi for excelling in studies and hope to get good result. Happy to perform in your temple as could watch it live and liked the procedure

Rakesh -
Chennai
Performed Kumari Pada Puja organised by Swaami Narayanan Temple. They organised well with 9 kumari and did a chakra chanting which was great and invoked Goddess. Got blessings and self satisfied

Sandeep kumar -
Las vegas
Performing Ashtalakshmi Homam in your temple gives me a positive energy where you take sankalpa on basis of my problem and when homa is done, I strongly get a belief of business development and growth in the market which is instable afer corona.

Preethi -
Kovai
Chandra Grahana pooja Benefits :
happiness and prosperity.
It bestows the person's life with happiness and prosperity.
mental stability.
It affects the unstable mind and provides mental stability.
mutual relationships.
If there is a discrepancy of opinion between husband and wife or the situation of separation arises, it is relieved from its worship. Adoration and love amplify in mutual relationships.
Strengthen concentration.
Performing the Surya Grahan Dosh Nivaran puja removes the darkness in life caused by the Surya Grahan Dosh to bring back the Light of Surya/Sun.
Business and occupation.
Business and occupation-related matters gain profits and are blessed with a house and vehicle comfort are retained.
riches and wealth.
In the family, riches and wealth are retained and love increases among family members.
Chandra grahanam
Have any thought? Look here.
Call now
Generally do not go out during the grahana which is very harmful. Do not eat anything during the grahana period.Especially Doing special Dosha parihara Pooja and Homam will reduce the grahana afflictions drastically.
When chandra grahana Occurs the rahu takes the moon's energy and herforth, moon creates a negative impact for mind will be excessively negative, negative emotions like anger and outburst will be high.
When Chandra grahana happens Pooja, Abhishekam and homam is performed to clear of the negative impacts and solve health issues,solve biorythm will have huge fluctuation and solve fights in the relationship
The highly affected Nakshatra is Bharani and the other affected nakshatra are Ashwini, Krithikka, Swathi, Vishakam, and chithirai
When chandra grahana Occurs the rahu takes the moon's energy and herforth, moon creates a negative impact for mind will be excessively negative, negative emotions like anger and outburst will be high.
Chandra Grahana is on 8th November of 2022 and the Timing for Grahana starts from 4.30 PM - 6.20 PM. (This is for All over India).
There are three types of Chandra grahans. They are: 1. Not visible 2. Partial 3. Total/Complete/Mahadasha
Why should you choose Swami narayanan temple? with E-service
Our prices are lower than the Market always.
You can book and get your Homam done in 2 hours
You can watch all your Rituals Live.
We chant your name in every ahurtie in the homam
We chant 108 ashtothra for all the gods, which is not done anywhere.
We only do individual Pooja and no group poojas are done.
All the rituals will be done at your convenience.